The Mavericks are ready to give star guard Luka Doncic a five-year extension worth an estimated $202MM, tweets veteran NBA reporter Marc Stein.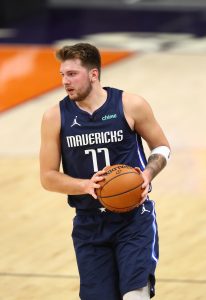 However, no formal talks will take place until after Doncic is finished with the Olympics this week. His Slovenian team is in the medal round after breezing to three victories in preliminary games.
Doncic, 22, has emerged as one of the NBA's top players after three seasons in the league. He averaged 27.7 points, 8.0 rebounds and 8.6 assists in 66 games this year, earning first-team All-NBA honors for the second straight season.
Doncic was named Rookie of the Year in 2019 and is a two-time All-Star. He was highly decorated before coming to the NBA, winning MVP and Final Four MVP awards in the EuroLeague in 2018.
Doncic's extension, which would have a starting salary worth 30% of the cap, would take effect in the 2022/23 season and would keep him under contract through the summer of 2027.
Photo courtesy of USA Today Sports Images.