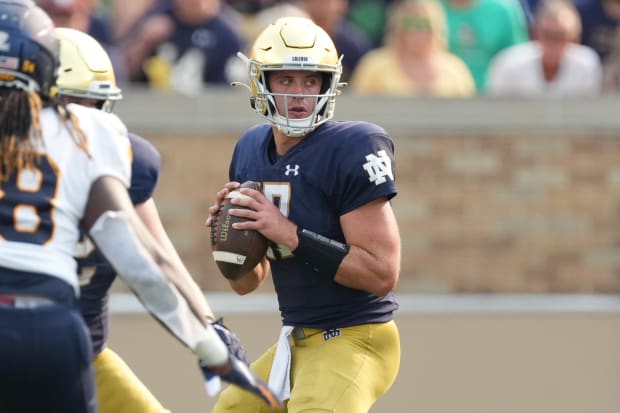 The 2021 college football season has delivered a steady dose of madness through just four full weeks. Some of the nation's top preseason picks have plummeted down the rankings, while some surprising upstarts have already begun to make their mark on the new year.
Although there's been a fair share of early season shake-ups, 26 teams still remain unbeaten through four weeks.
Headlining the group of undefeated programs is last year's champion, Alabama. The Crimson Tide were tested two weeks ago in the Swamp against Florida but bounced back with a confident win over Southern Miss on Saturday.
Alabama is joined by Georgia, Oregon and Oklahoma in the top four, as all four programs have held serve near the top of the rankings. However, each one has been tested early on and there's no guarantee that each team will still be there in a few weeks.
22 other teams remain unbeaten through the first four weeks of the season across the FBS. Here's a breakdown of all of the undefeated programs by conference:
ACC – Boston College, Wake Forest
Big Ten – Iowa, Maryland, Michigan, Michigan State, Penn State
Big 12 – Baylor, Oklahoma, Oklahoma State
Pac-12 – Oregon
SEC – Arkansas, Alabama, Georgia, Kentucky, Ole Miss
AAC – Cincinnati, SMU
C-USA – UTSA
Mountain West – San Diego State, Wyoming
Sun Belt – Coastal Carolina, South Alabama
Independents – Army, BYU, Notre Dame
Some usual powerhouses are surprisingly absent from the list of unbeatens. Clemson fell for the second time on Saturday to NC State, while Texas A&M dropped an important conference game to Arkansas. Ohio State added a blemish in the loss column a few weeks ago with a defeat at the hands of Oregon.
Although the above 26 teams have been impressive to start the year, all of them won't make it through December undefeated. Time will tell which programs stay at the top and which ones stumble as the season moves along.
[
Only 26 unbeatens left
ACC-BC, Wake
Big Ten-Iowa, Maryland, Michigan, MichSt, PennSt
Big 12-Baylor, OU, OklaSt
Pac-12-Oregon
SEC-Arkansas, Bama, Georgia, Kentucky, OleMiss
AAC-Cincinnati, SMU
C-USA-UTSA
MW-SDSU, Wyoming
SB-Coastal, S.Alabama
Independents-Army, BYU, NDame
— Brett McMurphy (@Brett_McMurphy) September 26, 2021
">Brett McMurphy]