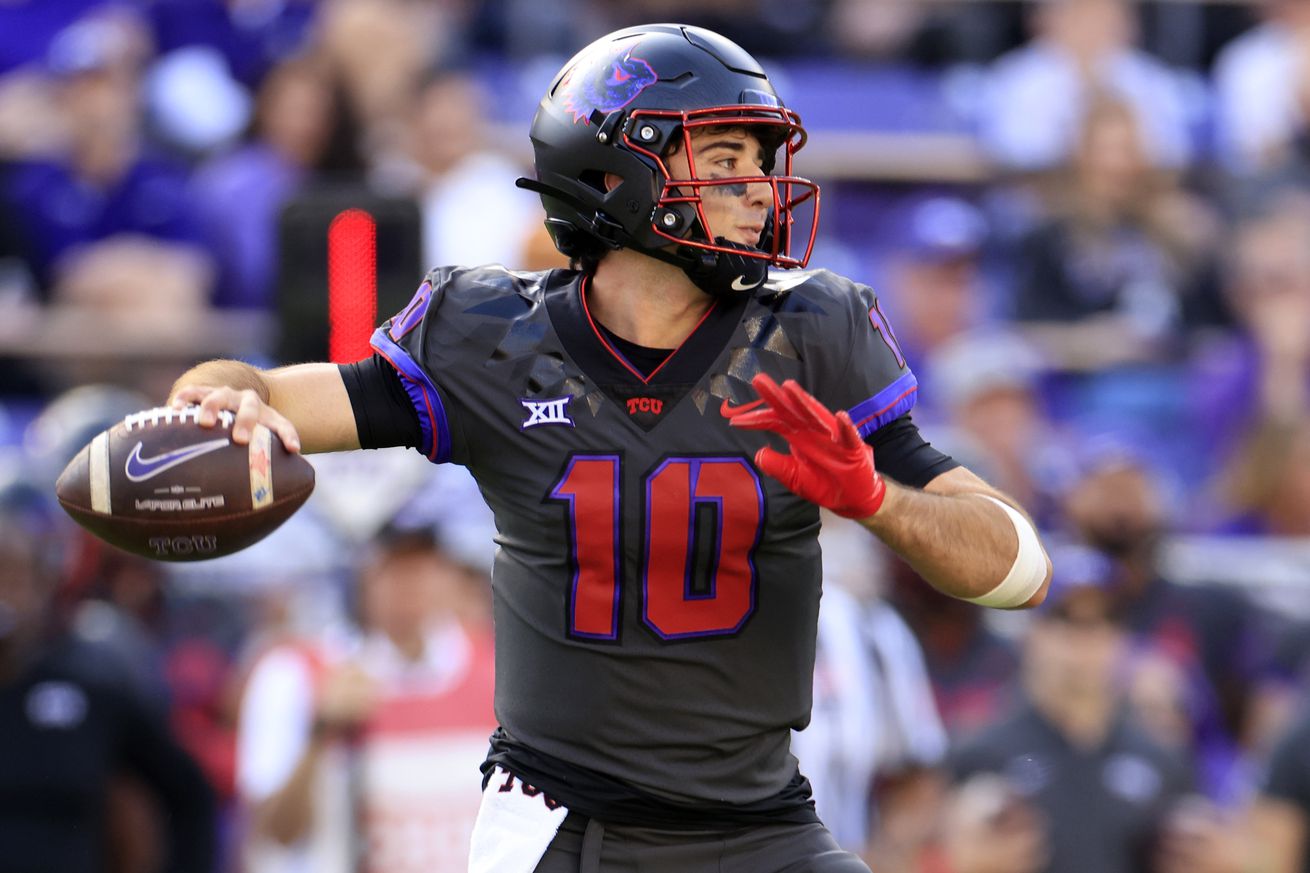 Wiley's career day & Hoover's near-perfect performance powers Senior Day victory of Baylor
Thank You, Seniors!
Being the final home game of the season, the pregame festivities included included the Senior Day celebration and it was a chance for the TCU faithful to cheer on some players that contributed to many all-time great moments for the Horned Frogs. This includes longtime Frogs like Offensive Linemen Brandon Coleman and Andrew Coker and newfound transfers like WR Warren Thompson and OL Willis Patrick.
Participating in #TCU Senior Day:

OL Andrew Coker
OL Brandon Coleman
LB Davion Crawford
DL Rick D'Abreu
S Josh Foster
DL Trenton Dickey
LB Jamoi Hodge
K Griffin Kell
LB Matthew Kerr
OL John Lanz
LS Brent Matiscik
DT Soni Misi
CB Josh Newton
QB Luke Pardee
OL Willis Patrick
S…

— Jamie Plunkett (@FrogPreacher) November 18, 2023
Many of these seniors starred on Saturday: Jamoi Hodge had 7 tackles; Josh Foster had maybe his best game as a Horned Frog, with 5 tackles; Josh Newton & Mark Perry were terrific in coverage with some key stops; Griffin Kell & Jordy Sandy were able to chill on the sideline aside from kickoffs and the six made extra points, as TCU had zero punts and zero FG attempts. That leads us to the star of Senior Day:
The TCU TE was downright rude to the Bears' defense on Saturday. Jared Wiley's final game in The Carter was one for the record books. He hauled in 7 receptions for 178 yards and two terrific touchdowns, with scoring plays from 81 and 28 yards. It breaks the TCU record for most yards in a game by a TE and per TCU SID Mark Cohen, Wiley's 178 yards is the most by any tight end in college football this season and the most receiving yards by a Big 12 tight end since the conference began play in 1996. Wiley has been building to this breakout and clearly has shown a rapport with QB Josh Hoover; since Hoover took over the starting role, Wiley has had at least four receptions in each game except vs. KSU, and now has three straight contests with at least 60 yards. Wiley has always been a matchup nightmare in short yardage or redzone opportunities, but he's developed the ability to find the space in these zones and turn into a devastating threat from anywhere on the field.
Hoover is HIM
TCU might've found itself a quarterback of the future. While there have been plenty of shaky moments and head-scratching decisions throughout this redshirt freshman season, Josh Hoover has shown the flashes of brilliance and consistency to give Frogs fans a hope that the future will be bright. On Saturday, Hoover completed 83% of his passes for 412 yards and the two TDs to Wiley. It's his second 400+ yard game of the season and by far his most efficient performance, making the right decision all day and avoiding anything near a turnover through the air. Hoover finished with a QBR of 98.6…the scale goes to 100; it was a near flawless effort plus TCU finally let him flash the wheels a bit, picking up 22 yards on the ground including a TD run.
Bluebonnet Shield Stays Home
Look, Baylor is in as bad a place as it has been in a long time, but defeating the Bears simply never gets old. The Horned Frogs have bested Baylor eight of the last nine meetings and is 12-4 overall since the Bears left TCU out of the newly formed Big 12 in 1996. Baylor has defeated TCU fewer times during that period as has SMU, one might argue the Iron Skillet is a more hotly contested rivalry than the Revivalry recently. Perhaps if TCU is going to be a "big boy" program, it should push to end the protected rivalry vs. Baylor in favor of bringing in a more competitive Big 12 opponent instead. It's all in good fun, and boy is it nice to be having a bit of fun again, because this season has had some low lows. But in what is possibly the worst season for TCU Football in the last two decades, the Horned Frogs still surpassed its friends from Waco & Dallas. And whether you love or loathe the name Bluebonnet Battle, or the enormous trophy that comes along with it, we can all agree: I'd rather the Horned Frogs be wielding that Shield and keep it stowed away in Fort Worth for as long as possible.