Cowboys executive vice president Stephen Jones recently expressed regret for the way the team handled Dak Prescott's extension, which became a three-offseason saga. The quarterback's $40MM-per-year contract will now have some effects on the way the Cowboys do business.
Although the Cowboys might circle back to extension talks for the likes of Michael Gallup, Randy Gregory or Leighton Vander Esch, the team will not discuss deals for the free agents-to-be in 2021, Michael Gehlken of the Dallas Morning News notes. The team has closed up shop on extension talks with its impending free agents, a group that also includes guard Connor Williams and tight end Dalton Schultz.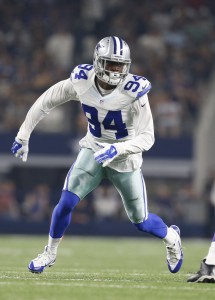 Gallup, Gregory and Vander Esch profile as the team's top three 2022 free agents. Each could be elsewhere next season, depending on their respective performances this year. Dallas' upcoming free agent crop does not bring the kind of high-stakes drama of recent offseasons, when the team either doled out big-ticket extensions (in the cases of Ezekiel Elliott, Amari Cooper and DeMarcus Lawrence) or stood down (in the case of Prescott). But Gallup and Gregory could enhance their value with quality contract-year performances, making the Cowboys pay more come 2022 — if they view the starters as long-term pieces.
Cooper's status will affect Gallup's. It appears the team recognizes there is only room for one of the two on its 2022 squad, with Gehlken adding that the team expects Gallup to see a big market as a free agent. Cooper's $20MM-AAV contract becomes easy to shed next year, with the Cowboys saving $16MM in cap space and taking just a $6MM dead-money hit if they cut the former trade acquisition. Cooper, 27, is two years older than Gallup. An either/or scenario creates an interesting subplot for the Cowboys' passing attack this season.
The Cowboys making Gregory prove it is logical, though they did extend the talented defensive end through 2021 despite his persistent off-field issues. Gregory will be 29 by the time his contract expires, and the former second-round pick has been suspended four times during his career. He is, however, set to be a full-time starter for the first time. This season stands to make a major impact on Gregory's value ahead of what could be his only notable contract agreement.
Dallas may enter an either/or situation at linebacker soon. The team is set to deploy first-round pick Micah Parsons this year, potentially leaving Vander Esch and Jaylon Smith to vie for a slot alongside him in 2022. The Cowboys did not pick up Vander Esch's fifth-year option, due to his injury troubles. Shedding Smith's deal next year would saddle the Cowboys with $6.8MM in dead money. How Vander Esch performs this year, and his health status exiting the season, will largely determine his free agency value.
Photo courtesy of USA Today Sports Images.