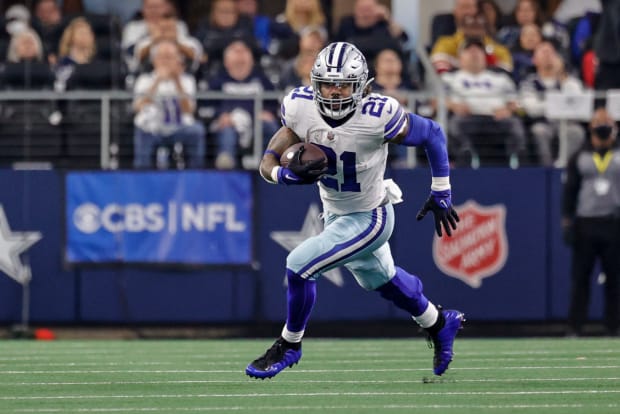 Ezekiel Elliott's Dallas Cowboys tenure may have ended Sunday.
The running back has a $16.7 million cap hit next season, an exorbitant price tag coming off the least efficient year of his career. Dallas can create nearly $5 million in cap space by cutting Elliott this offseason.
Per Mac Engel of the Fort Worth Star-Telegram, Elliott admitted to considering his future with the team that made him the No. 4 pick in 2016.
"I've definitely thought about it," he said. "I want to be here. I don't have a crystal ball. Can't predict the future, but definitely want to be here."
Elliott averaged career lows in yards per carry (3.8), yards per reception (5.4), and rushing yards after contact (1.5). He tallied 69 yards on 26 touches in the team's two playoff games.
Dallas finally gave more touches to Tony Pollard, who promptly made his first Pro Bowl with 1,378 scrimmage yards and 12 touchdowns. Yet the 25-year-old free agent could capitalize with a huge payday.
The Cowboys fed Elliott more than 300 carries in three of his first four seasons, but workhorse running backs don't have a long shelf life. Cutting the 27-year-old could help them retain Pollard or find a fresher replacement.
If Elliott's Cowboys career is over, he went out playing center on a bizarre formation in the final play of Sunday's 19-12 loss to the San Francisco 49ers.