Just a few weeks ago, it looked like Dak Prescott was going to sign an extension with the Cowboys very soon. Dallas' owner Jerry Jones went so far as to call a deal "imminent." Only a week later we heard that talks had stalled a little bit, and now we have further confirmation of that.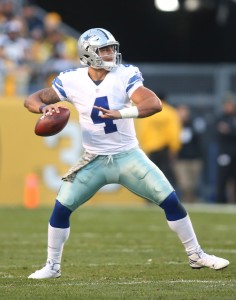 It would be a "huge surprise" if something got done in the near future, a source told Jeremy Fowler of ESPN.com (video link), who reports he's getting "strong indications" that nothing is close. Fowler has been told that Prescott is "willing to wait this out," and is in no rush to sign an extension. Adam Schefter of ESPN.com confirms that no extension is expected in the near future. Prescott has been playing the best ball of his career and has all the leverage right now, so that's not too surprising.
Since Prescott wasn't a first-round pick like fellow 2016 draft class passers Carson Wentz and Jared Goff, he had no fifth-year option in his contract and is set to become an unrestricted free agent in March. The Cowboys could of course always franchise tag him if they can't work something out, but that would be less than ideal.
The Jones family has been adamant all along that a deal will get done, but Prescott and his representatives are clearly playing hardball in negotiations. The Cowboys finally managed to lock up Ezekiel Elliott right before the start of the season, but are at an impasse with Prescott and top receiver Amari Cooper. Cooper is reportedly content to play out his contract and become a free agent, and it looks like both will be without new deals for a while. The lack of progress clearly isn't hurting Dallas' on-field product, as they've raced out to a 3-0 record.
Photo courtesy of USA Today Sports Images.