Ever since his decision to step away from coaching the Saints, Sean Payton has been connected to a number of positions around the league. Among those is a reunion with the Cowboys, but owner Jerry Jones is once again backing the team's incumbent HC.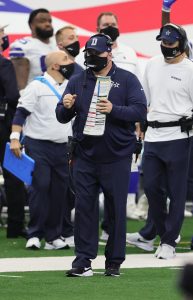 Payton spent three season as Dallas' QBs coach before being hired by the Saints in 2006. His tenure in New Orleans included the franchise's lone Super Bowl title, but it came to an end this January. He won't coach in 2022, instead trying his hand at broadcasting. The 58-year-old has still be linked to other, future, coaching roles during the offseason, however.
Chief among those is the reported deal in place with the Dolphins which would have seen him join Miami alongside Tom Brady if not for Brian Flores' racial discrimination lawsuit. More generally, his name has been used in discussions of Mike McCarthy's future with the Cowboys.
After a 6-10 campaign in 2020, the former Packers HC led the team to an NFC East title last season. That success was overshadowed by an underwhelming playoff loss, however, leading some to speculate that McCarthy could be on the way out. In the aftermath of their elimination, though, Jones made clear his support of the former Super Bowl winner. Jones reacted similarly when the idea of bringing Payton back came up again.
"Sean Payton shouldn't be out there" he said, via Clarence E. Hill of the Fort Worth Star-Telegram. "For him, the Cowboys, that's just sheer out of the air. It's well known we're good friends and we think a lot of him as a head coach. But in this case… he shouldn't be a conversation piece."
While Jones added that "it's also an eternity between right now and next year," his commitment to McCarthy for 2022 is obvious. The Cowboys have a number of new faces – particularly along the offensive line and in the receiving corps – to work with for the upcoming campaign, one in which expectations will once again be high for the team. McCarthy's performance will no doubt affect the future of his tenure, but for now it is safe.