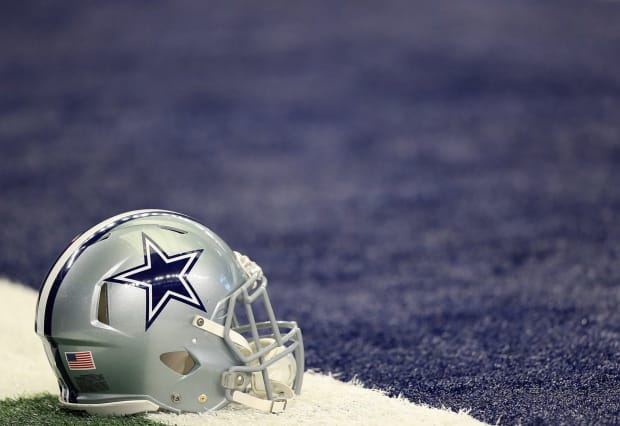 The Dallas Cowboys' Twitter account responded to Sunday's NFC Divisional Round loss with an oddly critical post about Dak Prescott.
"Dak Prescott gave away the ball twice in the narrow loss to the 49ers, in a matchup the Cowboys had a chance to win if they didn't again generate self-inflicted wounds," the tweet read.
Herm Edwards was among many onlookers puzzled by the Cowboys throwing their quarterback under the bus. The former NFL head coach blasted the team during Monday's episode of ESPN's This Just In.
"What I want to say, I can't say on-air 'cause I'm a good Catholic man and I won't go there with it," Edwards said (h/t Awful Announcing). "But I will say this: That's unfortunate, it really is. You're entitled to your opinion, but this thing is called team. And when you pick out a certain individual, to say you want to lay the blame on him personally, to me, I don't believe in that. That's not how I'm built."
Edwards added that he doesn't see this as an isolated incident from America's Team.
"This is a little bit of the Dallas Cowboys' problem," Edwards continued. "It's always someone else's fault. Let me place the blame on one person, 'cause it's not about us as a football team."
The team's post linked to an article in which Prescott took full responsibility for the turnovers in Sunday's 19-12 loss at San Francisco.
"Those are throws you can't have, not in the playoffs," Prescott said. "Not when you're playing a team like that on the road. No excuses for it. Those are 100 percent on me."
It's one thing for a player to accept blame for his mistakes, but the team doesn't typically point the finger at him. Although Prescott didn't have his best game against a juggernaut defense, he previously accounted for five touchdowns in a Wild Card Round blowout over the Tampa Bay Buccaneers.
The tweet from late Sunday night remains up despite backlash from Edwards and other critics.