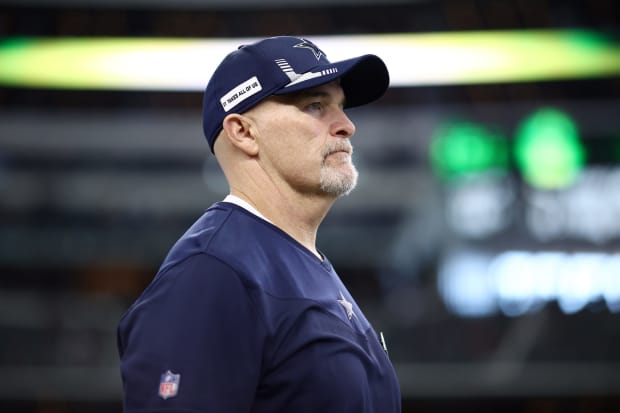 For the second straight year, Dallas Cowboys defensive coordinator Dan Quinn is drawing lots of interest for head coaching positions.
Quinn has already interviewed for the Arizona Cardinals vacancy, and the franchise is reportedly set to bring him back for a second meeting tonight.
This one will be in-person, according to NFL Network's Tom Pelissero. The Indianapolis Colts and Denver Broncos are also said to be considering Quinn for their head coach openings.
Quinn's apparent status as a bona fide candidate in Arizona has generated reaction from both Cardinals and Cowboys supporters. 
"It's unfortunate he's going to go… thank you DQ!" said one Cowboys fan.
"Doesn't mean anything. I believe DQ will stay in Dallas," another Cowboys fan countered.
"His defenses excelled. He took Atlanta to a Super Bowl. Ultimately his demise was his inability to keep talent on his staff. It got poached and his teams struggled," read one Cardinals fan's assessment of Quinn.
"Dan Quinn about to be out of Dallas in short order…if Joe Whitt, Jr. isn't elevated to DC then I'd try to go get Vic Fangio or retain George Edwards to become the new DC," suggested Dallas radio host Kevin Gray Jr.
Quinn posted a 43-42 overall regular season record in five-plus seasons as the head coach of the Falcons. 
He led the team to the playoffs twice, including an appearance in Super Bowl LI.