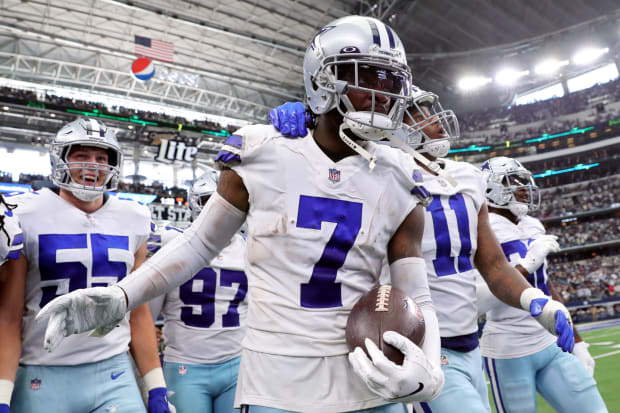 Trevon Diggs is hopping into the social media beef between his brother and Cincinnati Bengals cornerback Eli Apple.
Apple took a shot at Buffalo Bills wide receiver Stefon Diggs and quarterback Josh Allen on Monday, suggesting that the two need "couples therapy." The Bengals beat the Bills 27-10 in Sunday's AFC Divisional Round game, during which Diggs openly expressed frustration with Allen. 
Apple also trolled Diggs by tweeting "Cancun on 3" and including an emoji that looked like Damar Hamlin's trademark heart gesture. Diggs responded by saying Apple was "corny" and "clout chasing."
Now, his younger brother is taking aim at Apple.
"How you running to the internet to troll knowing you not like that? S–t weird," Trevon Diggs tweeted on Tuesday.
Apple has not addressed Trevon Diggs' subtweet, but did issue a statement saying he did not intend to disrespect Hamlin with his emoji usage in the Cancun tweet.
"All love thoughts prayers and concerns to @HamlinIsland as he continues to recover from that tragic incident. Never would I make light of that scary unfortunate scene," Apple said. "This game is truly a dangerous risk to our bodies mind and spirit. Nothing but love to all my football brothers."
All of this and we're still a few days away from the AFC Championship Game.
We'll see if Apple will be celebrating on Twitter after that contest, or if he'll be quiet following a Bengals loss to Kansas City.