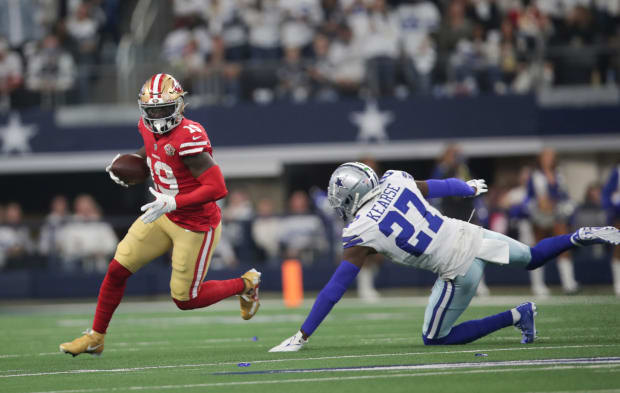 The San Francisco 49ers earned a 19-12 victory over the Dallas Cowboys to advance past the NFC Divisional Round.
Sunday's marquee matchup drew primetime placement on FOX, hardly a surprise considering each franchise's prestige. It's also not surprising that the game garnered the weekend's highest ratings.
FOX Sports revealed Tuesday that 45.7 million people watched the 49ers and Cowboys. Only one Divisional Round game on record has netted more viewers.
Sports Business Journal's Austin Karp noted that the Cowboys also participated in the most-watched Divisional Round game. Their 2017 loss to the Green Bay Packers drew 48.52 million viewers.
While the Cowboys' national popularity certainly boosted the TV ratings, some fans have other theories.
"Brock Purdy = RATINGS," a 49ers fan declared.
"America hates the Cowboys, so they tuned in to watch them crash and burn," another fan speculated.
"Fox says 45.7 million people watched Cowboys-Niners on Sunday. Which means 45.7 million saw this," Sports Illustrated's Jimmy Traina wrote with a video of the head-scratching final play.
Everyone watching witnessed the lowest-scoring game this postseason. That's not an indictment on the offenses as much as a testament to two of the league's premier defenses.
The 49ers and Philadelphia Eagles finished the regular season first and second in total yards allowed, so fans could see a similar defensive grind in the NFC Championship Game this Sunday.