The focus right now may be on Adam Fox as the next defenseman to sign a massive contract, but he's certainly not the only one. Dallas Stars defenseman John Klingberg is in the final season of his seven-year, $29.75MM deal signed in 2015, and will be an unrestricted free agent next summer. Jeff Marek of Sportsnet reports that Klingberg's camp is looking for an eight-year extension worth somewhere between $62MM and $66MM.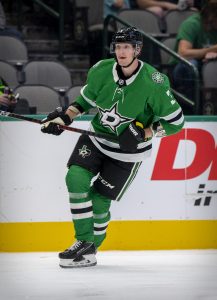 Marek, who explained his report on Hockey Night In Canada, made clear that the Stars and Klingberg are hoping to stay together beyond this season if possible. The big comparables for the 29-year-old defenseman are Darnell Nurse, Seth Jones, and Dougie Hamilton, who all inked massive deals this summer that bought out exclusively UFA years.
A $64MM deal would mean an $8MM cap hit for the veteran defenseman, a number that was eclipsed by all three of the listed names and would tie Klingberg–with Jacob Trouba, Thomas Chabot, John Carlson, and Brent Burns–for the 13th-highest among all defensemen next season.
There are few defensemen who have been so consistent offensively as Klingberg throughout his eight-year career. The 2010 fifth-round pick has recorded at least 32 points in each year and has amassed 327 overall in his 479-game career. That ranks ninth in the league over that period, more than both Hamilton and Jones despite Klingberg playing in fewer overall games.
With that in mind, the reported ask actually doesn't seem excessive for Klingberg, though a deal like that would certainly still bring plenty of risk for the Stars. Of note, he'll turn 30 next summer meaning an eight-year deal would likely come with several seasons of steep decline for the smooth-skating defenseman.
There's also already the presence of Miro Heiskanen on the roster, making $8.45MM of his own for most of the next decade. Dallas would become just the second team in the league with two defensemen making at least $8MM per season, joining San Jose who has had their own salary cap issues because of the massive deals for Erik Karlsson and Brent Burns.
If Klingberg doesn't get the deal he wants from Dallas, he'll enter free agency as a highly-coveted asset, but he then wouldn't be able to sign an eight-year pact. Only the Stars can offer him a deal more than seven years in length, unless they trade his rights at some point.
Photo courtesy of USA Today Sports Images